GoMRI Newsletter: Spring Issue 2017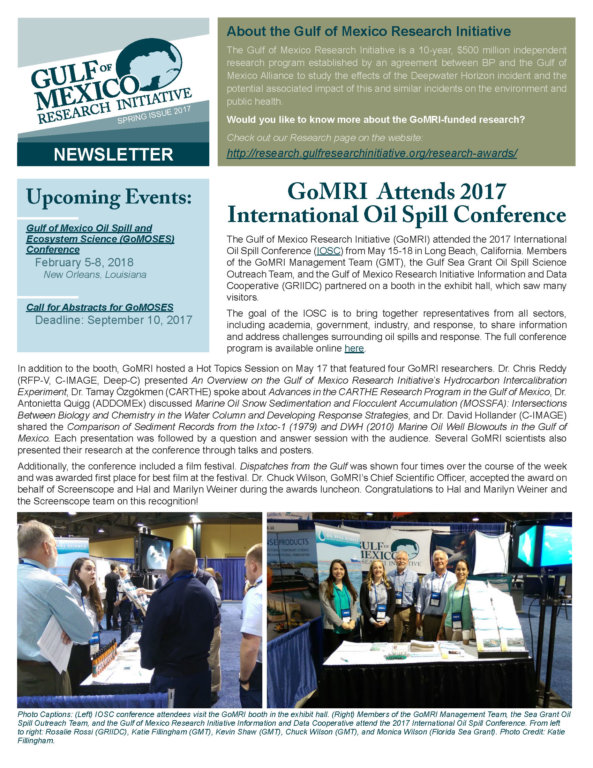 Above the Fold
– "GoMRI Attends 2017 International Oil Spill Conference"
– "C-IMAGE Launches Beneath the Horizon Interactive Website"
– "High School Senior Presents Research at 2017 Gulf of Mexico Oil Spill and Ecosystem Science Conference"
– Frequently Asked Questions
– Note from the Research Board Chair
– Education Spotlight
Community Happenings
Science Corner
Published Science Highlights from the GoMRI Program
Studies Highlight Complexities in Connecting Larval Fish to Deepwater Horizon
F.J. Hernandez, Jr., J.E. Filburn, J. Fang, J.T. Ransom
Environmental Research Letters, 2016, Vol. 11(9)
Inter-Research Marine Ecology Progress Series, 2016, Vol. 558, pgs. 143-152
Study Investigates Influence of Hurricanes on Ocean Surface Currents
M. Curcic, S.S. Chen, T.M. Ozgokmen
Geophysical Research Letters, 2016, Vol. 43(6), pgs. 2773-2781
Study Analyzes Trends and Gaps in Oil Spill Literature Since 1968
D. Murphy, B. Gemmell, L. Vaccari, C. Li, H. Bacosa, M. Evans, C. Gemmell, T. Harvey, M. Jalali, T.H.R. Niepa
Marine Pollution Bulletin, 2016, Vol. 113(1-2), pgs. 371-379
Study Quantifies Influence of Data Input on Confidence in Loop Current Forecasts
M. Iskandarani, M.L. Henaff, W.C. Thacker, A. Srinivasan, O.M. Knio
Journal of Geophysical Research: Oceans, 2016, Vol. 121(7), pgs. 4819-4832
Study Characterizes Natural Deep Sea Seeps
A. Conti, M. D'Emidio, L. Macelloni, C. Lutken, V. Asper, M. Woolsey, R. Jarnagin, A. Diercks, R.C. Highsmith
Deep Sea Research Part II: Topical Studies in Oceanography, 2016, Vol. 129, pgs. 53-65
Study Finds Jellyfish Mucus May Enhance Microbial Oil Degradation
B.J. Gemmell, H.P. Bacosa, Z. Liu, E.J. Buskey
Marine Pollution Bulletin, 2016, Vol. 113(1-2), pgs. 483-487
Study Finds Corexit Triggers EPS Production, Enhancing Marine Snow Formation
J.S. van Eenennaam, Y. Wei, K.C.F. Grolle, E.M. Foekema, A.J. Murk
Marine Pollution Bulletin, 2016, Vol. 104(1-2), pgs. 294-302
Study Characterizes River Plume Mixing Processes in Coastal Waters
K.D. Huguenard, D.J. Bogucki, D.G. Ortiz-Suslow, N.J.M. Laxague, J.H. MacMahan, T.M. Ozgokmen, B.K. Haus, A.J.H.M. Reniers, J. Hargrove, A.V. Soloviev, H. Graber
Journal of Geophysical Research: Oceans, 2016, Vol. 121(2), pgs. 1322-1345
Five-Year Study Finds Deepwater Horizon Negatively Affected Periwinkle Snails
S. Zengal, J. Weaver, S.C. Pennings, B. Silliman, D.R. Deis, C.L. Montague, N. Rutherford, Z. Nixon, A.R. Zimmerman
Marine Ecology Progress Series, 2016, av2
To see all GoMRI publications, please visit the GoMRI Publication Database.
Video Clip of the Quarter
The Relationships of Effects of Cardiac Outcomes in Fish for Validation of Ecological Risk (RECOVER) Consortium recently featured a short video of a two-day old mahi mahi under the microscope opening its mouth for the first time to begin eating real food. The incredible video can be found on their Facebook page here.
The Consortium for Advanced Research on Transport of Hydrocarbon in the Environment (CARTHE) released a video in partnership with Waterlust describing the process the team undertook to develop their biodegradable GPS drifters. The creative and humorous short film shares the successes and the challenges CARTHE researchers faced while engineering the units, including finding a very specific material that could float, wouldn't absorb water, and would biodegrade safely in the ocean. Be sure to check it out here.
GoMRI Newsmakers
A recent publication featuring GoMRI researchers Jonas Gros (DEEP-C), Christopher Reddy (C-IMAGE, RFP-V, DEEP-C), Robert Nelson (DEEP-C, C-IMAGE, RFP-V), Scott Socolofsky (GISR, C-IMAGE), and their co-author J. Samuel Arey was selected as first runner up in the Environmental Technology category of the Environmental Science and Technology's Best Papers of 2016. The article, titled Simulating Gas-Liquid-Water Partitioning and Fluid Properties of Petroleum under Pressure: Implications for Deep-Sea Blowouts, can be found here. Congratulations to the team on this recognition.
GoMRI also congratulates Dr. Jeff Chanton for receiving the 2017-2018 Robert O. Lawton Distinguished Professor award. Dr. Chanton is the John W. Winchester Professor of Oceanography at Florida State University (FSU) where he has been a member of the faculty for 29 years. He has been involved in GoMRI since its inception, serving as a co-principal investigator on ECOGIG, DEEP-C, ECOGIG-2, and C-IMAGE-II. This award is the highest honor FSU bestows on one of its own. To learn more about Dr. Chanton and this award, and to listen to an interview with him, visit the FSU website here. Congratulations to Dr. Chanton.
GoMRI's Research Board Chair, Dr. Rita Colwell, was recently awarded the National Science Board Vannevar Bush Award. The Vannevar Bush Award is presented to scientists who have served as lifelong leaders in science and technology and have made contributions to the Nation through public service. Dr. Cowell received the award on May 9, 2017, in Washington, D.C. GoMRI extends its congratulations to Dr. Colwell on this honor.
GoMRI Scholars in Action
The Gulf of Mexico Research Initiative (GoMRI) is recognizing the graduate students whose vital research contributes to improving understanding about the damage, response, and recovery of the Deepwater Horizon oil spill. Candidates for this program must be graduate students who have participated in a GoMRI-funded project for at least one year, whose work is primarily funded by GoMRI, and who are working on a dissertation or thesis based on GoMRI-funded science.
Learn more about the scholars' research and career paths on the GoMRI website:
Sea Grant
The Sea Grant Oil Spill Science Outreach Team hosted their most recent seminar on Sea Turtles and Oil Spills on March 23, 2017 at the Gladys Porter Zoo in Brownsville, Texas. The full-day workshop was attended by more than 100 people online and in person. The agenda is available here. The workshop featured presentations by Dr. Nathan Putman, a scientist with NOAA's Atlantic Oceanographic and Meteorological Laboratory; Dr. Tracy Collier speaking on behalf on the Natural Resources Damage Assessment (NRDA) process; Dr. Charles Caillouet, marine fisheries scientist, retired from the NOAA Fisheries Service; Dr. Donna Shaver, Chief of the Division of Sea Turtle Science and Recovery at the Padre Island National Sea Shore; Dr. Benny Gallaway, President of LGL Ecological Research Associates, Inc.; Dr. Patrick Burchfield, Executive Director of the Gladys Porter Zoo; Gary Graham, Texas Sea Grant Fishery Specialist and Turtle Excluder Device (TED) expert; Gonzalo Pena, Natural Resources Specialist with Texas General Land Office's Oil Spill Prevention and Response Division; and Jeff George, Executive Director of Sea Turtle, Inc. All presentations are available on the Sea Grant website here.
Steve Sempier, Deputy Director of the Mississippi-Alabama Sea Grant Consortium and Manager of the Sea Grant Oil Spill Science Outreach Team, and Ed Levine, Regional Operations Supervisor in the Office of Response and Restoration at NOAA, presented at a seminar hosted by NOAA on April 28, 2017. The seminar was titled Disaster Needs: Sea Grant/Private Sector Partnership Serves Impacted Sectors and Prepares for Future Events.
The Sea Grant Oil Spill Science Outreach Team has also released several new publications. Emerging Surfactants, Sorbants, and Additives for Use in Oil Spill Clean-up discusses the technologies used to clean up the oil from the Deepwater Horizon oil spill and shares emerging technologies and the science behind how they work. The Deepwater Horizon Oil Spill's Impact on Bottlenose Dolphins shares information and ongoing research on how dolphins in the Gulf were affected by the oil spill. Sea Turtles and the Deepwater Horizon Oil Spill details what has been learned so far about the oil spill's impact on sea turtles.
Finally, the Sea Grant Oil Spill Science Outreach Team attended the 2017 International Oil Spill Conference (IOSC) in partnership with GoMRI Management Team and GRIIDC members. A full summary of that conference can be found on page 1.
Ocean Portal
Smithsonian's Ocean Portal recently released their newest article in partnership with the Relationships of Effects of Cardiac Outcomes in Fish for Validation of Ecological Risk (RECOVER) consortium called From Larvae to Adults – Finding Impacts of an Oil Spill on Mahi Mahi. The article discusses RECOVER's efforts to study oil impacts on mahi mahi from spawning, which involves Ph.D. student Lela Schlenker staying up through the night observing them in a large tank at the University of Miami, all the way through population dynamics, which includes the team capturing wild mahi mahi and tracking them using satellite tagging (a feat in and of itself due to mahi mahi's sensitivity to stress and handling). RECOVER's research has been shown that oil exposure impacts the fish from the reproductive and embryonic stages, all the way through the population level.
Check out the story, more photos, and videos here!