"Bob the Drifter" Shares Ocean Transport Science in Fun, Innovative Video
– October 25, 2013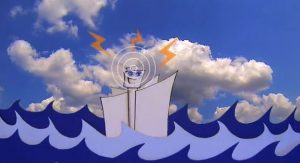 Science that is understandable is science that is used. Researchers are right now making major advancements in tools that will help fisheries and disaster responders:  improving models that predict the movement of objects or substances in the ocean, such as marine larvae, oil spills, and people lost at sea.
To get the word out to a wide audience, scientists teamed up with outreach and media specialists and created an animated story using simple language and pictures to explain their research.
Meet Bob the Drifter, one of the many important devices that collect data for scientists with the Consortium for Advanced Research on Transport of Hydrocarbon in the Environment (CARTHE). Bob is specially designed to drift with the surface currents and is equipped with a GPS unit so the CARTHE scientists can track where he goes and how fast he is moving.  Follow along in the video below with Bob as he moves throughout the Gulf of Mexico, providing information to the scientists so they can predict where the currents may take things in the water.   
CARTHE partnered with Waterlust, a small student-driven enterprise at the University of Miami, to create this video. A few years ago, graduate student Patrick Rynne turned his desire to communicate ocean science to the public into a thriving operation by making connections with companies (such as GoPro) and sports events. Today he, along with graduate students Fiona Graham and Jennah Caster make water-related films and teach others how to be film makers. Dr. Tamay Ozgokmen, Director of CARTHE and a member of Patrick's Ph.D. committee, saw Waterlust as a means to fill CARTHE's need for creative communications to reach large, diverse audiences and also to support a local student business whose mission is to "support a community of water lovers that will produce high-quality content for the rest of their careers."
CARTHE, based at the University of Miami Rosenstiel School of Marine and Atmospheric Science, is a research group of over forty scientific researchers, post-doctorates, students, and administrative staff from fourteen universities and research institutions. Their mission is to predict the fate of oil released into our environment to help inform and guide response teams, thereby protecting and minimizing damage to human health, the economy, and the environment.
This research was made possible in part by a grant from BP/The Gulf of Mexico Research Initiative (GoMRI) with the Consortium for Advanced Research on Transport of Hydrocarbon in the Environment (CARTHE). GoMRI is a 10-year, $500 million independent research program established by an agreement between BP and the Gulf of Mexico Alliance to study the effects of the Deepwater Horizon incident and the potential associated impact of this and similar incidents on the environment and public health.
© Copyright 2010- 2017 Gulf of Mexico Research Initiative (GoMRI) – All Rights Reserved. Redistribution is encouraged with acknowledgement to the Gulf of Mexico Research Initiative (GoMRI). Please credit images and/or videos as done in each article. Questions? Contact web-content editor Nilde "Maggie" Dannreuther, Northern Gulf Institute, Mississippi State University (maggied@ngi.msstate.edu).