GoMRI Outreach Coordinators Publish Recommendations Article in Limnology and Oceanography Bulletin
– OCTOBER 12, 2018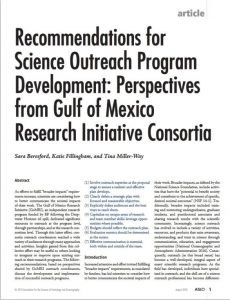 (From Summer 2018 Newsletter) Contributing Authors: Tina Miller-Way, Sara Beresford, and Katie Fillingham
Gulf of Mexico Research Initiative (GoMRI) outreach coordinators Tina Miller- Way from the Alabama Center for Ecological Resilience (ACER), Sara Beresford from the Ecosystem Impacts of Oil and Gas Inputs to the Gulf (ECOGIG) consortium, and Katie Fillingham from the GoMRI Management Team have authored an article that was recently published in the Association for the Sciences of Limnology and Oceanography (ASLO) Limnology and Oceanography Bulletin. The article, titled Recommendations for Science Outreach Program Development: Perspectives from the Gulf of Mexico Research Initiative Consortia, was developed in collaboration with all of the GoMRI outreach coordinators and is an encapsulation of lessons learned conducting outreach (including education) across the GoMRI-funded consortia.
The article makes seven recommendations geared towards researchers and outreach professionals looking to integrate or expand outreach efforts in their research programs. In summary, the recommendations are:
Involve outreach expertise as early as possible, preferably during proposal development
Be strategic and specific when developing an outreach plan
Explicitly identify desired audience(s) and determine the most effective ways to reach them
Capitalize on unique areas of research and team member skills, as well as existing and potential relationships
Make sure the budget is reflective of the outreach plan, recognizing that social media is not free
Determine evaluation metrics during and not after outreach plan development
Communicate regularly within the team and identify opportunities to communicate and collaborate with other outreach professionals
The authors feel that addressing these recommendations will improve the effectiveness and efficiency of outreach efforts when planning an integrated research and outreach program.
GoMRI has dedicated significant resources to outreach, resulting in a robust outreach program. Having worked both within individual consortia and across consortia outreach programs since GoMRI's inception (nearly nine years), GoMRI-funded outreach coordinators provide unique insights that may be useful to others looking to include outreach in research programs, regardless of the size or budget of the program. The authors would like to emphasize that this effort would not be possible without the contributions and support of the GoMRI consortia outreach coordinators, the GoMRI Management Team, and the GoMRI Research Board.
Read the article here.