Latest Edition of GoMRI Newsletter Now Available – Fall Issue 2015
– December 11, 2015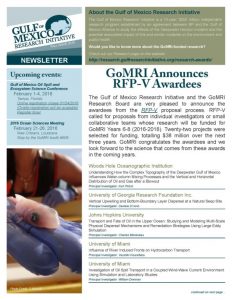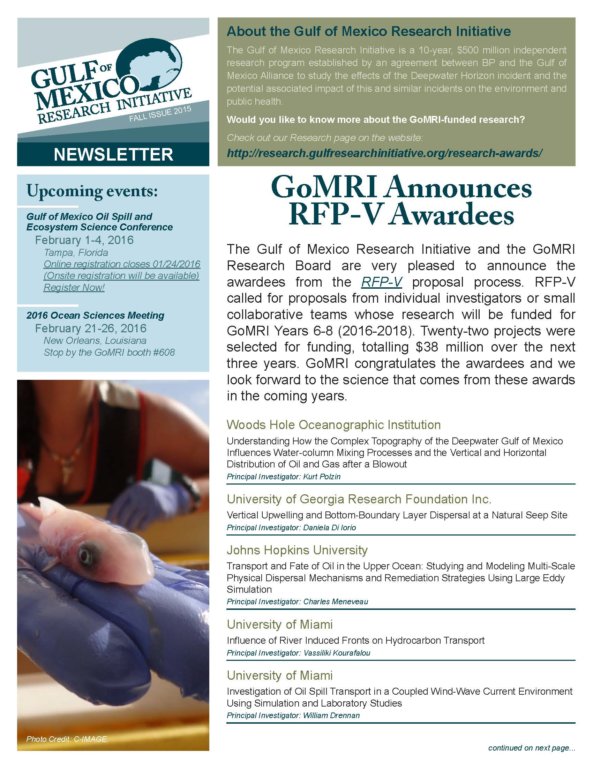 We are pleased to share the fall 2015 issue of the GoMRI newsletter. We hope you continue to find it a useful way to keep up with the GoMRI research community's activities.
Access the full newsletter here.
If you wish to receive future editions of the newsletter by email, you can sign up for the email distribution list here.
All past and present editions of the GoMRI newsletters are located here.
© Copyright 2010- 2017 Gulf of Mexico Research Initiative (GoMRI) – All Rights Reserved. Redistribution is encouraged with acknowledgement to the Gulf of Mexico Research Initiative (GoMRI). Please credit images and/or videos as done in each article. Questions? Contact web-content editor Nilde "Maggie" Dannreuther, Northern Gulf Institute, Mississippi State University (maggied@ngi.msstate.edu).