Look for these Tools and Resources for Oil Spill Research in 2020
– APRIL 27, 2018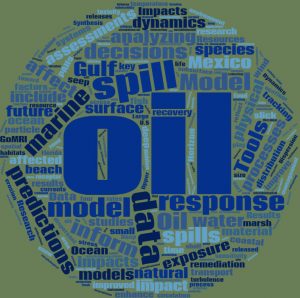 Eight years after Deepwater Horizon, we reflect on the sobering deaths of 11 people and the millions of barrels of oil released into the Gulf of Mexico. We also reflect on the extraordinary establishment of the largest coordinated scientific endeavor around an ocean event – the Gulf of Mexico Research Initiative (GoMRI) – to understand, respond to, and mitigate impacts from this and future oil spills.
The GoMRI program recently awarded their final two-year grants ($50 Million to 8 research consortia and 23 small research teams), which will wrap up its 10 year oil spill research program. Let's take a look at some of the new and improved tools and resources that the 23 small team studies will produce that will improve our understanding of the 2010 oil spill and be better prepared for future spills.
Tools to Analyze Public Safety. Over 50,000 workers were involved in the Deepwater Horizon cleanup, and the oil spill affected more than 1,000 miles of beaches, some in prime tourist areas.
Tools to Find Hidden Oil. Oil spill material that moves beneath the ocean's surface or sinks to the seafloor adds to the complexity of tracking it for response decisions and impact assessments.
Tools to Track Oil. Improvements to predictions for where oil spill material is going needs data from interacting environmental factors, physical ocean processes, and spilled oil characteristics.
Tools for Oil Degradation and Dispersion Research. A better understanding of how oil degrades in the marine environment can inform spill technology development and remediation decisions.
Resources on Marsh Impacts and Response. Understanding how the spill affected coastal marshes and how they responded can inform response and mitigation decisions and impact assessments.
Tools for Deep Ocean Analyzes. Deepwater Horizon happened in the least understood and incredibly productive area of the Gulf of Mexico. Deep Ocean dynamics affect food webs and global nutrient cycling.
Tools to Assess Marine Animal Impacts. Understanding how marine animals respond to oil spill exposure can inform response decisions, impact assessments, and public safety actions.
Resources: A detailed oil spill timeline and a video about the making of a 10 Year Gulf of Mexico Research  Program.
************
The Gulf of Mexico Research Initiative (GoMRI) is a 10-year independent research program established to study the effect, and the potential associated impact, of hydrocarbon releases on the environment and public health, as well as to develop improved spill mitigation, oil detection, characterization and remediation technologies. An independent and academic 20-member Research Board makes the funding and research direction decisions to ensure the intellectual quality, effectiveness and academic independence of the GoMRI research. All research data, findings and publications will be made publicly available. The program was established through a $500 million financial commitment from BP. For more information, visit https://gulfresearchinitiative.org/.
© Copyright 2010-2018 Gulf of Mexico Research Initiative (GoMRI) – All Rights Reserved. Redistribution is encouraged with acknowledgement to the Gulf of Mexico Research Initiative (GoMRI). Please credit images and/or videos as done in each article. Questions? Contact web-content editor Nilde "Maggie" Dannreuther, Northern Gulf Institute, Mississippi State University (maggied@ngi.msstate.edu).