Scientists Rejoice: A One Stop Web Shop for Gulf of Mexico Research
– November 13, 2014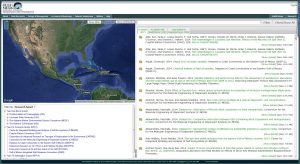 Look no further, scientists. More than 18 terabytes of scientific data concerning the Gulf of Mexico is now available for free on one website.
(From AL.com / by Casey Toner) — The Gulf of Mexico Research Initiative Information and Data Cooperative is hosting information that 2,400 researchers gathered from more than 200 experiments. Searchable by region, the website includes studies, experiments, publications, and datasets. Anyone can view the information, although some of it is restricted. You can view the website here.
"We have research on burrowing clams with hydrocarbon traces; jellyfish with a high tolerance for crude oil toxins; zooplankton that react to oil dispersants; gulf killifish with altered reproduction habits from environmental stressors. And that's just the beginning," said Dr. Jim Gibeaut, the director of the data cooperative.
Gibeaut said the data allows scientists and oil-spill responders to review what's worked in the past and use the information to make better choices to mitigate a spill's impact. The data covers topics such as ecology, biology, chemicstry, physical oceanography, atmospheric science, human health, sociology, cultural studies, political science, and economics.
The web portal was created by the Gulf of Mexico Research Initiative, a 10-year independent research program established four years ago through a $500 million commitment from BP.
GoMRI "In the news" is a reposting of articles about GoMRI-funded research (published by various news outlets). The author's interpretations and opinions expressed in these articles is not necessarily that of GoMRI.