Sea Grant Releases Report on Fostering Researcher-Responder Collaboration
– JUNE 11, 2020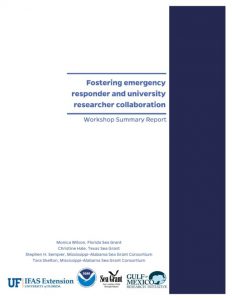 The Gulf of Mexico Research Initiative (GoMRI) is pleased to announce a new report that draws from five workshops hosted by the Sea Grant Oil Spill Outreach Team where emergency responders and oil spill science researchers from around the Gulf of Mexico gathered to learn from one another. Workshop attendees discussed the role of academia in oil spill response, the response sector's contributions to research, and challenges and barriers to and solutions for working collaboratively. The workshop summary report is Fostering Emergency Responder and University Researcher Collaboration.
Attendees identified the lack of funding as the biggest challenge and barrier to collaboratively working with one another. There are diminished resources between major spills for research and for trainings, workshops, and events that bring these groups together. The next biggest challenge participants identified was lack of communication between the groups who operate under different timelines and priorities.
Responders would like to see scientists attend local Area Committee Meetings (ACMs) held by regional US Coast Guard Sectors, but it would need to be a continuous effort by scientists so that a trusted relationship is ongoing outside of actual spill response. Responders want to know about scientific findings related to oil spills and would like scientists to help communicate that with them and the public in a transparent manner.
Academic scientists want responders to share their data with the academic research community, particularly where there are known data and knowledge gaps so that scientists could plan projects to address those gaps. Scientists would like to attend industry and response organization trainings and drills so that they can learn about protocols and certifications needed to participate in response efforts.
Solutions that the groups offered included making research data, such as oceanographic surveys, easily available and for researchers to share published findings with industry members, state and local agency employees, and elected officials for developing response plans. The group supported meetings that provided opportunities for responders and researchers to gather, interact, and continue communications and to share research, data, and ideas.
The workshop report provides background information, such as pre-workshop surveys that guided workshop development, how the workshops were conducted (started in 2015 across the five US Gulf States), and details about discussions and results.
"The original workshop was so well-received by the researchers and responders in attendance we decided to make it into a Gulf-wide series," said physical oceanographer Monica Wilson who is the Florida lead for the Sea Grant Oil Spill Outreach Team. "These workshops provided a place for these two groups to come together and have a conversation about future collaborations. The information that was gathered from all those in attendance is a steppingstone in improving these relationships and keep these connections growing."
The 26-page report is available at http://masgc.org/oilscience/Researcher-Responder-Workshop-Report.pdf
By Nilde Maggie Dannreuther. Contact maggied@ngi.msstate.edu with questions or comments.
************
This work was made possible in part by grants from the Gulf of Mexico Research Initiative to the Sea Grant Oil Spill and Outreach Team and from the Sea Grant Programs in Texas, Louisiana, Mississippi-Alabama, and Florida. Additional support came from the Mission-Aransas National Estuarine Research Reserve, Mississippi State University Coastal Research and Extension Center, NOAA Disaster Response Center, and Florida Fish and Wildlife Institute.
The Gulf of Mexico Research Initiative (GoMRI) is a 10-year independent research program established to study the effect, and the potential associated impact, of hydrocarbon releases on the environment and public health, as well as to develop improved spill mitigation, oil detection, characterization and remediation technologies. An independent and academic 20-member Research Board makes the funding and research direction decisions to ensure the intellectual quality, effectiveness and academic independence of the GoMRI research. All research data, findings and publications will be made publicly available. The program was established through a $500 million financial commitment from BP. For more information, visit https://gulfresearchinitiative.org/.
© Copyright 2010-2020 Gulf of Mexico Research Initiative (GoMRI) – All Rights Reserved. Redistribution is encouraged with acknowledgement to the Gulf of Mexico Research Initiative (GoMRI). Please credit images and/or videos as done in each article. Questions? Contact web-content editor Nilde "Maggie" Dannreuther, Northern Gulf Institute, Mississippi State University (maggied@ngi.msstate.edu).