GoMRI Newsletter: Spring Issue 2016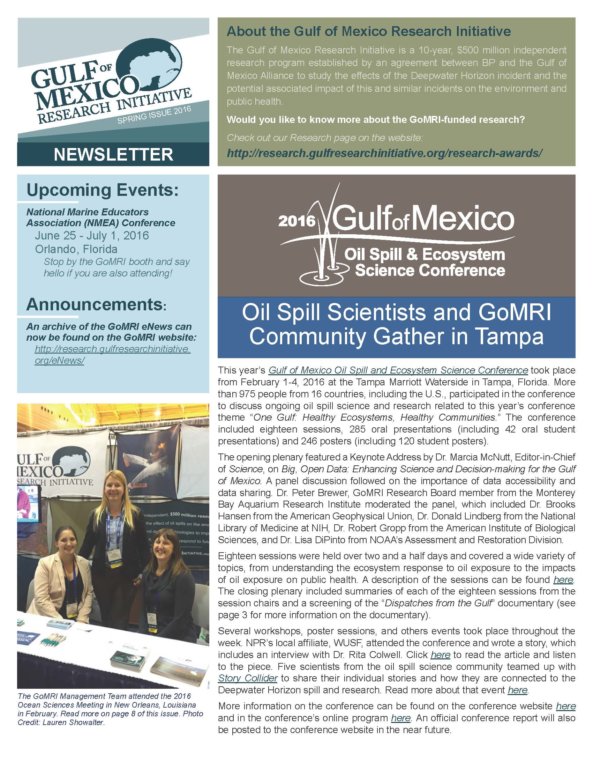 Above the Fold
– "Oil Spill Scientists and GOMRI Community Gather in Tampa"
– "Dispatches from the Gulf Documentary Features GoMRI Scientists"
– "Slice 'n Dice"
– "GoMRI Attends 2016 Ocean Science Meeting in New Orleans"
– Frequently Asked Questions by Dr. Chuck Wilson
– Note from the Research Board Chair
– Education Spotlight
– GoMRI Researcher Interview with Dr. Jack Gilbert
Community Happenings
Science Corner
Published science highlights from the GoMRI program
Study Shows Raindrops Push Oil Spill Pollutants into Air and Below Sea Surface
D.W. Murphy, C. Li, V. d'Albignac, D. Morra, and J. Katz
Journal of Fluid Mechanics, 2015, Vol. 780, pgs. 536-577
Study Describes How Hurricane Isaac Stirred Up a Marine Snow Storm
K. Ziervogel, C. Dike, V. Asper, J. Montoya, J. Battles, N. D'souza, U. Passow, A. Diercks, M. Esch, S. Joye, C. Dewald, and C. Arnosti
Deep Sea Research Part II: Topical Studies in Oceanography, 19 June 2015
Study: Oil May Have Diminished and Altered Phytoplankton Communities
M.L. Parsons, W. Morrison, N. Rabalais, R.E. Turner, and K. Tyre
Environmental Pollution, 2015, Vol. 207, pgs. 152-160
Study Identifies Molecular Fingerprints for Tracking Oil and Dispersant Fate
M. Seidel, S. Kleindienst, T. Dittmar, S.B. Joye, and P.M. Medeiros
Deep Sea Research Part II: Topical Studies in Oceanography, 30 May 2015
Study Suggests Coastal Marine Animals Assimilated Carbon from Deepwater Horizon
R.M. Wilson, J. Cherrier, J. Sarkodee-Adoo, S. Bosman, A. Mickle, and J.P. Chanton
Deep Sea Research Part II: Topical Studies in Oceanography, 29 May 2015
Study: Nitrogen Enhances Microbial Oil Degradation
M. Bookstaver, M.P. Godfrin, A. Bose, and A. Tripathi
Journal of Petroleum Science and Engineering, 2015, Vol. 129, pgs. 153-158
Study Shows Oil and Dispersants Damage Mangroves Differently
B. Tansel, A. Arreaza, D.Z. Tansel, and M. Lee
Marine Pollution Bulletin, 2015, Vol. 98, Issue 1-2, pgs. 34-39
Study: Different Dispersant Surfactants Help and Hinder Oil-Degrading Bacteria
M. Bookstaver, A. Bose, and A. Tripathi
Langmuir, 2015, 31 (21), pgs. 5875-5881
To see all GoMRI publications, please visit the GoMRI Publication Database.
Video Clip of the Quarter
RECOVER recently launched a four-part video series in partnership with the University of Texas Marine Science Institute on their red drum research. The first episode talks about why their location at Port Aransas is an ideal location to study the impacts of the Deepwater Horizon oil spill. Check out the first episode here, and be sure to check back for future episodes!
C-IMAGE Co-PI Dr. Dana Wetzel and Outreach Coordinator Ben Prueitt were interviewed by their local WUSF radio station, an NPR affiliate. They talked about C-IMAGE's upcoming exposure studies and how these experiments are helping scientists learn about the effects of the Deepwater Horizon oil spill. Listen to the full story!
GoMRI Newsmakers
GoMRI would like to congratulate three members of the GoMRI community who have been named as 2015 American Association for the Advancement of Science (AAAS) fellows: Dr. Jacqueline Dixon (C-IMAGE I), Dr. Kendra Daly (C-IMAGE I and II), and Dr. Steve Murawski (C-IMAGE I and II). Each year, the AAAS fellowship recognizes scientists from a variety of fields for their "contributions to innovation, education, and scientific leadership." Congratulations!
GoMRI would also like to congratulate Dr. Rita Colwell, Chair of the GoMRI Research Board and Distinguished Professor at the University of Maryland at College Park and Johns Hopkins University Bloomberg School of Public Health, on receiving the National Council for Science and the Environment (NCSE) Lifetime Achievement Award. NCSE is a non-profit organization based in Washington, D.C. dedicated to "improving the scientific basis for environmental decision-making." Their lifetime achievement award is given to scientists who have made outstanding contributions to the advancement of science for the public good.
The GoMRI community welcomes Dr. Cecilie Mauritzen to the GoMRI Research Board. Dr. Mauritzen is Chief Scientist for Water and Climate at the Norwegian Institute for Water Research. She has a background in physical oceanography, specializing in large-scale ocean circulation and state changes in the deep ocean. Welcome!
GoMRI Scholars in Action
The Gulf of Mexico Research Initiative (GoMRI) is recognizing the graduate students whose vital research contribute to improving understanding about the damage, response, and recovery of the Deepwater Horizon oil spill. Candidates for this program must be graduate students who have participated in a GoMRI- funded project for at least one year, whose work is primarily funded by GoMRI, and who are working on a dissertation or thesis based on GoMRI-funded science.
Learn more about the scholars' research and career paths on the GoMRI website:
Sea Grant
The four Gulf Sea Grant Programs recently released several additional publications related to oil spill science, research, and dispersants. "Navigating Shifting Sands: Oil on Our Beaches" focuses on oil that washed up onto Gulf coast beaches after Deepwater Horizon, how scientists are working to remove any oil that remains, and information that first responders can use in future spills to mitigate oil on coastal beaches. The second publication, "Top 5 Frequently Asked Questions about the Deepwater Horizon Oil Spill," discusses the most frequently asked questions about the oil spill, including the impact to seafood and wildlife, clean up techniques, where the oil went and where it is now, and if dispersants make it unsafe to swim in the water. The team also released a series of publications, "Fate, Transport and Effectiveness of Dispersants Used in the Deepwater Horizon Oil Spill," "Chemical Dispersants and their Role in Oil Spill Response," and "Responses of Aquatic Life in the Gulf of Mexico to Oil and Dispersants," which focus on the use of dispersants in oil spill response. Be sure to visit their website and check out these excellent resources.
The Gulf Sea Grant team will also continue to host seminars in 2016. Check their website for more information on seminar dates, topics, and registration information, and for summaries from previous seminars.
Ocean Portal
Smithsonian's Ocean Portal's most recent article features three ways in which GoMRI scientists are using genomics, the study of an individual's or a community's genes, to better understand the impacts of oil spills. The article features work by GoMRI-funded scientists Joel Kostka, Jack Gilbert, and David Portnoy. To read more about Dr. Jack Gilbert's research, please see this issues GoMRI Interview.
Also be sure to check out Ocean Portal's recent blog post on the importance of data transparency and data sharing and how GoMRI is working to achieve this. Read it here!