Video Shows Technology that Scientists Use to Study the Ocean's Motion
– JANUARY 18, 2018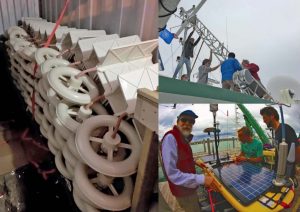 Scientists completed four field experiments in the Gulf of Mexico, linking the dynamics of deep ocean, shelf, and coastal surface currents (where materials such as oil or debris naturally accumulate) in a way that has never been done before. So how did they do that?
The team representing 30 universities used 2,000 custom-made, biodegradable, GPS-equipped drifters; 15,000 biodegradable drift cards; hundreds of thousands of infrared images and high-resolution photos; 5 drones; 6 small boats; 2 planes; 2 research vessels; and a suite of instruments that measured physical properties and conditions of water and the atmosphere. Whew!
Take a look at the technology that researchers with the CARTHE consortium used to answer the question: Where is water going to go in the ocean? The data they collected will help develop the next generation of ocean circulation models.

Motion of the Ocean from CARTHE on Vimeo. Video credit: Waterlust
The CARTHE experiments have far-reaching applications with new scientific insights that can inform navigation, energy production, climate science, hurricane predictions, search and rescue, beach safety, and tracking floating non-biodegradable plastics pollution, which is a rapidly growing ocean problem.
Read more about the Gulf of Mexico field experiments that these scientists conducted:
************
This research was made possible in part by a grant from the Gulf of Mexico Research Initiative (GoMRI) to the Consortium for Advanced Research on Transport of Hydrocarbon in the Environment II (CARTHE II) and CARTHE I. Other funding sources included the Office of Naval Research (Grant #N000141110087).
The Gulf of Mexico Research Initiative (GoMRI) is a 10-year independent research program established to study the effect, and the potential associated impact, of hydrocarbon releases on the environment and public health, as well as to develop improved spill mitigation, oil detection, characterization and remediation technologies. An independent and academic 20-member Research Board makes the funding and research direction decisions to ensure the intellectual quality, effectiveness and academic independence of the GoMRI research. All research data, findings and publications will be made publicly available. The program was established through a $500 million financial commitment from BP. For more information, visit https://gulfresearchinitiative.org/.
© Copyright 2010-2018 Gulf of Mexico Research Initiative (GoMRI) – All Rights Reserved. Redistribution is encouraged with acknowledgement to the Gulf of Mexico Research Initiative (GoMRI). Please credit images and/or videos as done in each article. Questions? Contact web-content editor Nilde "Maggie" Dannreuther, Northern Gulf Institute, Mississippi State University (maggied@ngi.msstate.edu).